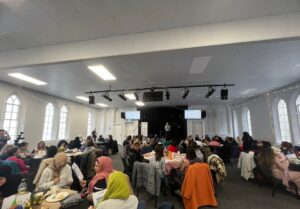 Celebration International Women's Day the Lincoln way!
Happy Women's Day for a world where women feel valued not only one day but all the time, and where they can live with equal rights, comfortably and freely!
LEAN celebrated International Women's Day with Lincoln's culturally diverse community. Nearly 70 women joined our celebration event at The International Cafe in Bridge Church.
Together with LEAN volunteers and with the support of Mo, founder of International Cafe, and the Alive Church team, we decorated the tables with flowers and lights. Flags from all nations took their place, different beliefs and different cultures met around the same table. We had so much food barely fitted on 3 large tables! Noodles and traditional soup from Hong Kong, desserts from Ukraine, Bulgarian wraps and boreks, samosa from Egypt, dishes from Bangladesh, Turkish delights,  traditional snacks from Nigeria, Kurdish dolma and rice dishes and lots of other cultural delicacies to share.
Bahar Tomek, from LEAN opened the even, group discussions were facilitated at the tables so women chatted and got to know one another. We had an overview of LEAN from Louise Humphries who also explained why it was so important to celebrate International Women's day. We then had a series of wonderful and inspiring presentations from local women with different cultural and ethnic backgrounds. Ghada, from the Muslim Sisters Lincoln talked about her experiences as an Egyptian woman, Galina spoke as a Bulgarian women from Bulgarian community, Sakia talked about life as a Bangladeshi woman living in the UK, Bahar spoke about Turkish Women from the perspective of a Turkish student, and we learnt about Nigerian women from our LEAN volunteers.
We also heard about women's pregnancy and baby health from Sarah Akerman, Communication and Engagement Lead NHS The Better Birth Team, it was a good opportunity for women to focus on their health.
In addition, to help LEAN design sessions for digital inclusion a test consisting of basic questions was given to women and brief information was given about it. LEAN will be offering free ESOL embedded training to support women to improve their IT skills – whether it is using e-mail, being more confident about making online applications to official institutions, or using FB and IG for their community groups and business.
A huge thank you to our LEAN Community Connectors who made the event happen – and provided the food.
Big thank you to University of Lincoln student for filming the IWD event.
A big thank you to International Cafe and Mo. Also, many thanks to the Alive Church team for their technical support. We would like to thank all the participants who will continue their activities at LEAN Lincoln for their interest.